The Internet Commodities and Futures Exchange™
The Largest Network of Independently Owned Retargeting, Real-Time
Bidding and Programmatic Demand-Side Platforms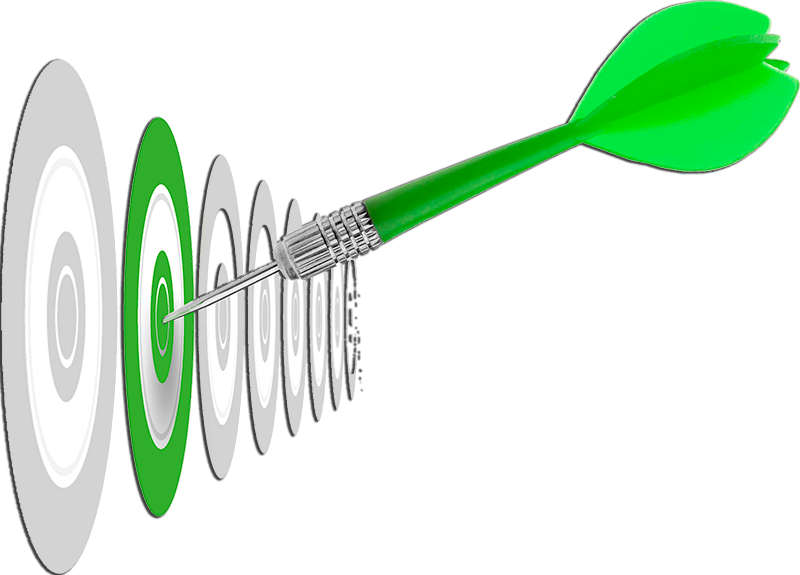 Get New Customers
Let our team start delivering results that you can measure…
Give us an understanding of your offer
We'll research competitors and similar campaigns
We'll target and identify your audience
We'll give you the best path based on your goals
We'll implement the plan for you
Fully Turnkey …Guaranteed.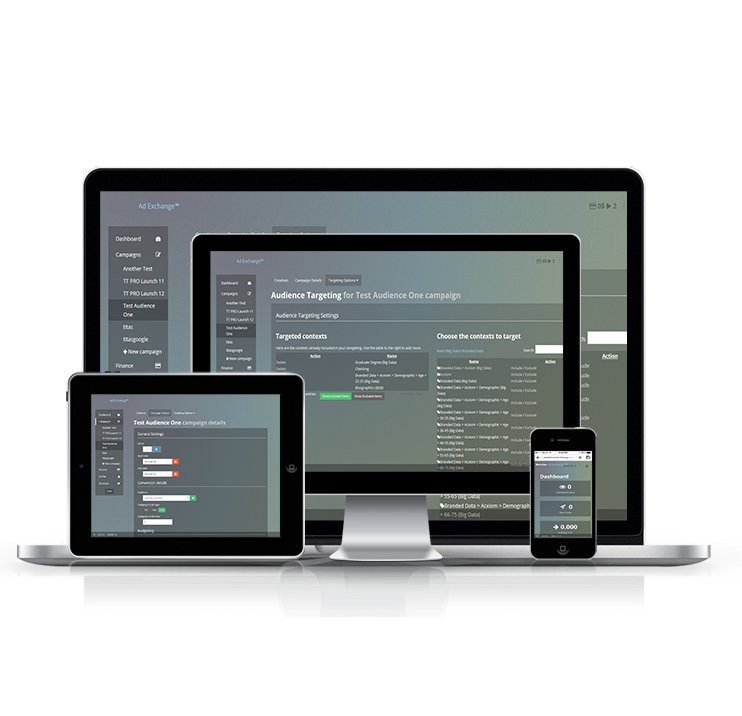 Get the best results in the shortest period of time. We provide…
Competitor-Market Research
Inventory Access – 248 Countries
44 Languages
4170 Regions
210 Nielsen DMA™ Markets
Big Data Targeting
27+ Exchanges
50 Billion Daily Impressions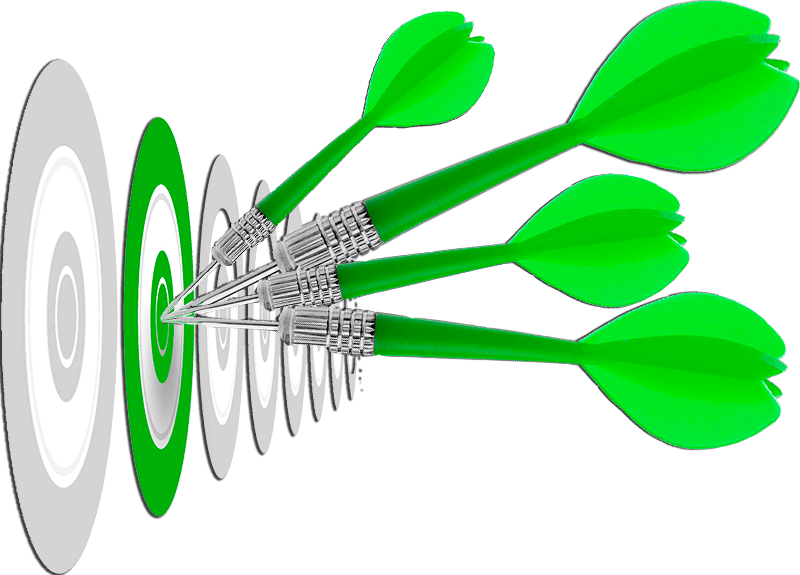 Find New Customers …Bring Back The Ones You Lost
Facebook Retargeting
Google, Yahoo, Bing Search Retargeting
Pay-Per-Click Retargeting
E-Mail Retargeting
Dynamic Retargeting
Past Purchase Retargeting
Predictive Buyer Retargeting
Comparison Shopper Retargeting
In-Market Product-Service Retargeting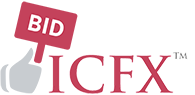 Real-Time Bidding
We have access to all major Ad Exchanges operated by Google™, Facebook™, Microsoft™ and Yahoo!™, combined with third party Big Data Audience Targeting, we can target, bid, win your audience, and place your display ad in real-time. 98%+ market coverage!

Audience Retargeting
Drive interested visitors back to your site from anywhere on the 'Net. Get over 700% ROI and turn shopping cart abandonment into conversions and profits. Retargeting is one the most successful and effective means of online advertising. Turn lost visitors into more sales.

Search (re)Targeting
Search (re)Targeting compiles the main keywords searches queried on Google, Bing and Yahoo!. Our technology then places your offer on matching websites …over 98% of Real-Time Bidding Display Inventory at your fingertips. This is the "New SEO".

In-Market Buyers
Each day, millions of Internet users are searching for products and services just like yours. We use algorithms to identify your potential customers, and display your offer to them in real-time. Our system can be so precise, we can identify potential customers across the street …or around the world.

B2B Targeting
If you have a product or service that caters to businesses, we can access partners like Bizo to identify ideal business owners and decision makers. Your business audience can be targeted based on professional groups, company size, location, industry, net worth and much more.

Demographics Targeting
Target Likely Customers Based On:
Age – Income – Gender
Financials – Family composition
Home – Auto ownership
Interests: Travel, Health, Sports, Politics, etc.
Custom audiences that fit your criteria

Pay Per Impression
Instead of paying "retail-level" traffic on a CPM (cost per thousand) basis, with our Real-Time Bidding platform, you pay near wholesale prices, one impression at a time. HUGE savings, precise targeting, total campaign management ensure the best and the fastest possible results.
Pay Per Click
If you'd rather secure your targeted audience on a Pay-Per-Click basis, we can setup your campaigns on a PPC basis. You'll only pay when someone clicks on your banner and visits your offer. Just tell your assigned campaign specialist to setup your campaign for Pay-Per-Click  ..it's that simple and that easy with us.

Pay Per Lead
Want to pay only for leads that you receive? We'll setup a completely turnkey leads system. You'll pay only when your visitor converts or takes the "action" that you desire. Our Lead Generation System will be setup and configured exclusively for your offer. Your Campaign Specialist will do it all just for you!
Use The Form Below To Create An Account With An ICFX™ Partner.
Get Started TODAY…
Targeting Methods for Push Button Precision Traffic





Holiday-Seasonal Targeting







You'll LOVE Our Service! See What Others Say…
Using Site Targeting and Social Media Targeting, you've whittled my effective per click cost down to less than 30% of what I've been paying Facebook direct. We're very pleased!  Great service… Great platform.
Geo-Targeting has worked very well for me, especially after ***** tweaked my campaign after the first full week. She took all of the complications out of setting up and optimizing my campaigns.
By taking your advice, we're now running Neilsen DMA™ combined with Retargeting and we're getting local customers as a direct result and so far, our ROI is nearly 687%!  This is a retailer's dream !
Your reports speak for themselves! Over 3250 clicks.  Some of my campaigns are getting better and better as they are optimized. By the way, I paid a tad over $290 for those clicks. Nothing came close to those stats.
The Birth Of Real-Time Bidding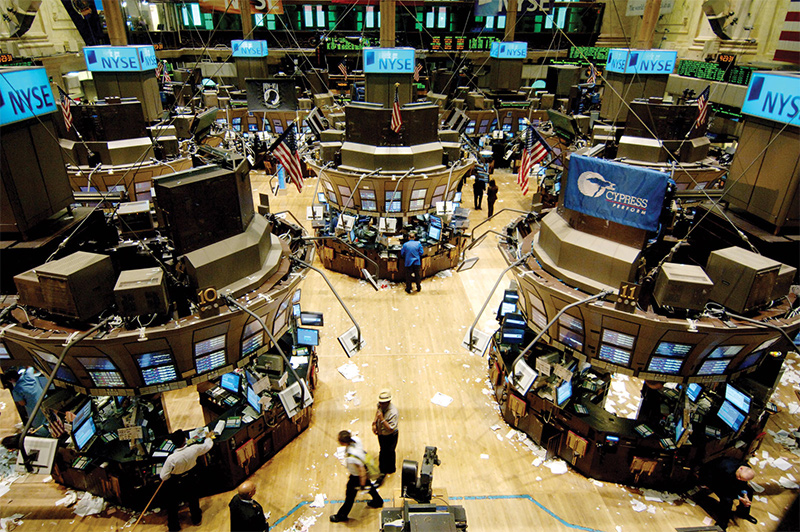 Several years ago Google™ spent over $3.1 billion for a company called DoubleClick™. At the time, this acquisition cost almost double what Google™ had paid for the phenomenally successful video site YouTube™. Google™ made this purchase because DoubleClick™ had created technology that would completely revolutionize the way Digital Advertising was bought and sold.
The concept was very simple and innovative. DoubleClick was developing technology that would allow for the automated purchase and sale of Digital Advertising …virtually the same way that stocks are bought and sold on Wall Street.
Instead of advertisers buying a brand, such as Google™, Yahoo™ or Bing™, and paying their posted retail prices, advertisers could pay what an audience is worth to them, the advertiser…on an impression by impression basis.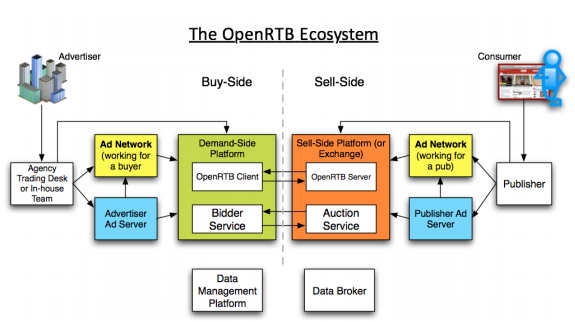 Shortly after the Google™ purchase of DoubleClick™, it announced that this auction based marketplace would be open to all, and to support that announcement, they initiated what was called the Open RTB consortium.
To participate in this marketplace, guidelines were set up for companies and software developers to design approved, compatible-with-Google™ Real-Time Bidding architecture. This open and transparent approach caused others to join in on this effort. Yahoo!™ and Microsoft™ and later on, Facebook™, invested billions of dollars to purchase or design technology similar to the Google/DoubleClick™ acquisition. And companies like ours were busy writing software to link into this vast Auction-Based arena. 
Today, over 98% of the entire Digital Advertising inventory is available for purchase through the Real-Time Bidding marketplace. And because of this open and transparent architecture and networking abilities,  we can provide you with virtually unlimited Audience Targeting combinations.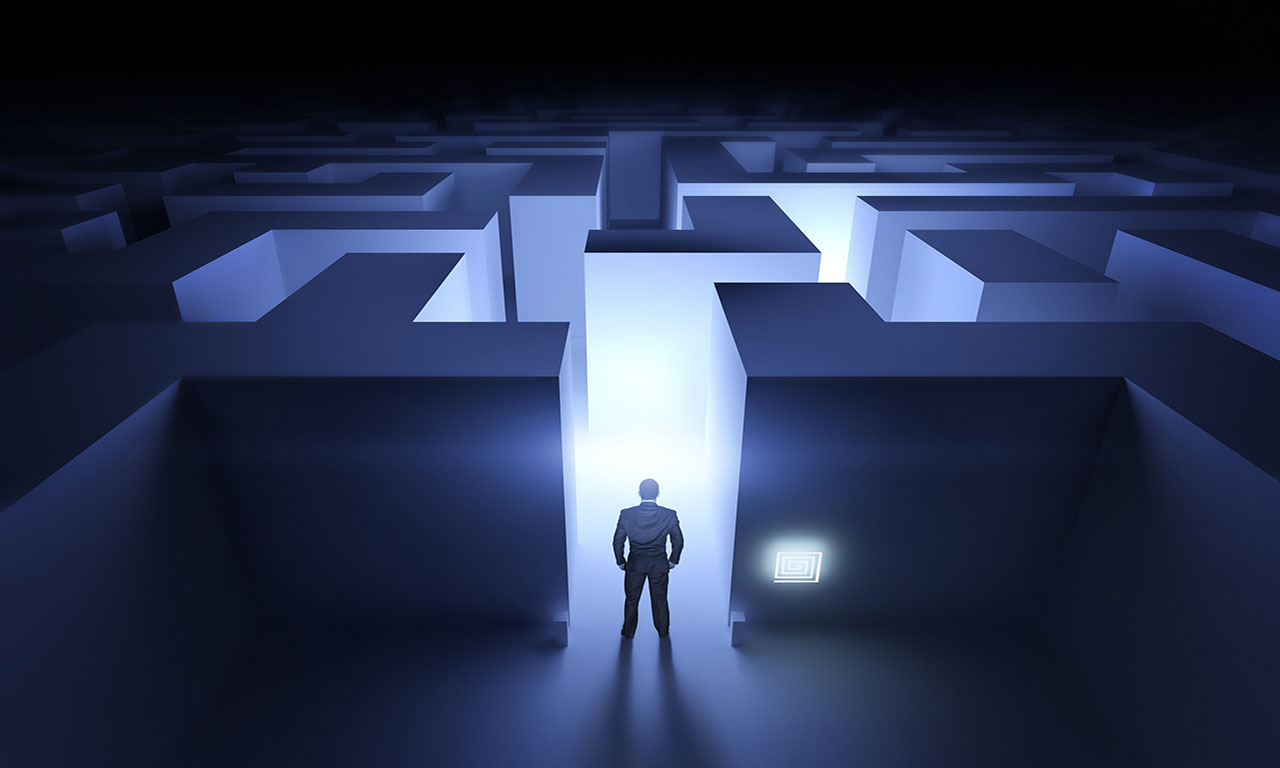 So Where Do I Start!!??
This is where we've made it easy. In our case, by networking with premium suppliers of Audience Profiles, called Big Data Providers, we offer nearly 55,000 unique Audience Targeting combinations! Having access to these Audience Profiles require a huge learning curve. But to get the widest possible Audience, along with best targeting at the best prices, we refuse to cut corners.
We want to ensure that you enjoy a highly effective campaign … with ZERO learning curve. Instead of offering the traditional "Self-Serve" RTB Platforms that require you to learn how to use it and do everything on your own, we offer Fully Managed RTB and Retargeting Accounts to all of our clients, regardless of  your Ad Budget!
This means that if your best Audience is;
A married female with children…
That lives in New York, loves tennis and is looking for an exotic vacation
Who works in a Management position and earns 6 figures
….And is in the market for a BMW™ 5 Series
…chances are, we can target and identify your Audience, bid, win the bid and place your Ad in front of your Audience … all in less than 5/10th of a second!!! Local-Regional-National-Global …nobody beats our targeting capabilities!
Our Number 1 Commitment …YOU!
The Internet Commodities and Futures Exchange is the largest group of Independently Owned Real Time Bidding And Traffic Acquisition Systems. We're not funded by deep pocket Investors, nor do we drive up huge markups to satisfy someone's bottom line demands. We don't maintain glitzy offices… instead, we give you some of the lowest markups in the industry, along with a high level of personal service.
Just talk with us or answer a few questions on our PPS Request form. Your account will be setup, monitored and optimized. We'll perform all tasks from within your account. That way, should you ever want to run your own campaigns, you'll have the roadmap to do it.
We Can Handle It All
Your business means more to you than learning about Real-Time Bidding, Predictive Targeting or Search Targeting.  We'll strive to provide you with the most ideal customer, at the exact moment they are considering the purchase of a product or service just like yours.
Transparency And Reporting
ICFX™ Partners will provide you with full reporting so that you'll know exactly where your traffic comes from and how much you pay for it.  We offer two payment options:  A fixed fee above "Floor Prices" or a fee based on a percentage of your ad spend.  The choice is yours.  Either way, we provide you will full transparency when you deal with us.
Refund & Cancellation Policy
There are no long term commitments or contracts.  If you're not pleased with the level of service that we provide or the quality of traffic that you receive we'll refund 100% of your unused account balance.  We know we'll win you over with superior service and excellent traffic quality.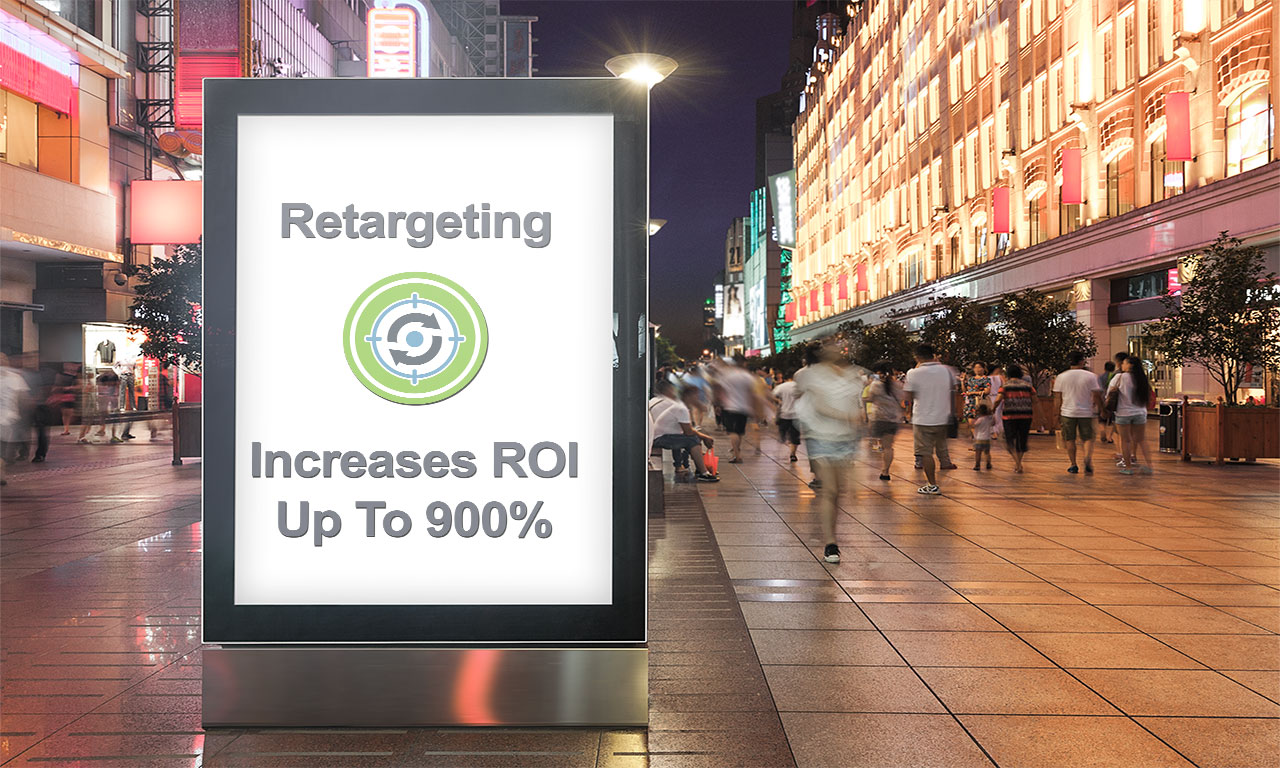 Every day you lose sales and exposure when someone visits your website and does not convert into your customer… Countless times each day, an interested visitors gets to your order form ….and abandons the order. Retargeting has turned lost opportunities like these into reported ROI's of 900% and more for some businesses.
How? …Imagine the power of a second, third, fourth (or more) opportunity to engage an audience that has already shown an interest in your offer? Without Retargeting, you lose the opportunity to resell to the 96%+ of visitors that will not convert on their first visit.
Retargeting "rules" can be created at virtually any point of your Sales Funnel. Your Audience Retargeting list can be structured to drive your targeted visitors back to your offer, or a discount, or an alternate offer …well, by now you can imagine the possibilities…
So How Does It Work?…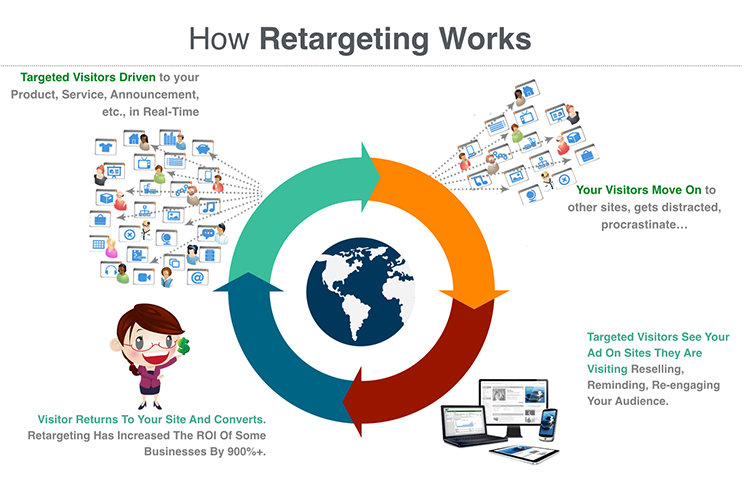 When we build your campaign, we include up to five "cookies" …a javascript code that we will place on your page(s). We can place this code on:
Your Landing Page
Your Order Page
Your Thank You – Confirmation Page, etc.
If a visitor clicks-thru to your offer, and leaves, or gets to your order page and does not complete the order or signup …or they purchase, signup, subscribe, etc., and received a Confirmation or Thank You …. in each stage of this funnel, there is an opportunity to resell this visitor. And statistically, getting these additional opportunities have increased clicks back to your offer which ended in a sale, signup, etc.
With partnerships and alliances that give us access to over 98% of the Real-Time Bidding Marketplace, to include Facebook™, Google™, Bing™, Yahoo™, we can display your Ad to one of your visitors in real-time. This process of driving your visitors back to your offer is a proven strategy and it makes Retargeting and Real-Time Bidding a must-have for your business.
So Why Should You  Get A Retargeting Campaign Started?…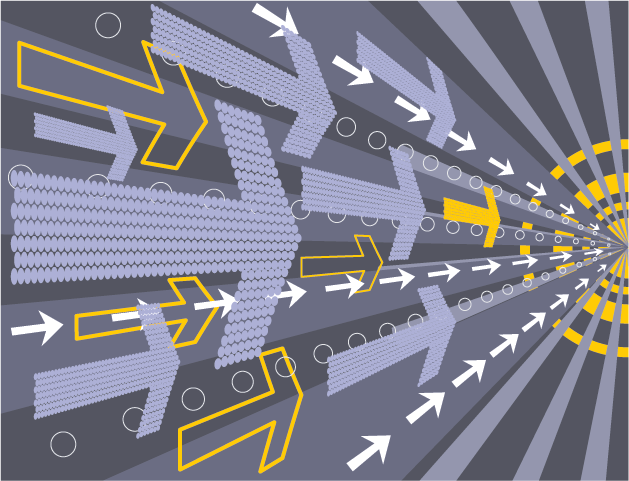 Here are a few reasons to consider a Retargeting strategy and for allowing us to do it for you:
The bulk of your profits are generated when you engage a potential customer more than once

Your Retargeting list is an asset that allows you to use it for current and future campaigns
Retargeting could mean a potential ROI of triple-digits

As of December 5 2014, our system has built Audience Retargeting lists for several hundred clients.

These assets range from Retargeting Audiences of several thousand, up to Retargeting Audiences that exceed 1,100,000.

We'll build your Retargeting Audience to fit virtually any product, service or announcement that you offer.
Internet Commodities And Futures Exchange
4840 Forest Drive, Suite 155
Columbia, SC 29206
Direct Dial: (803) 599-3490
Skype: icfx.org
[gravityform id="8″ name="Contact Us" title="false" description="false"]